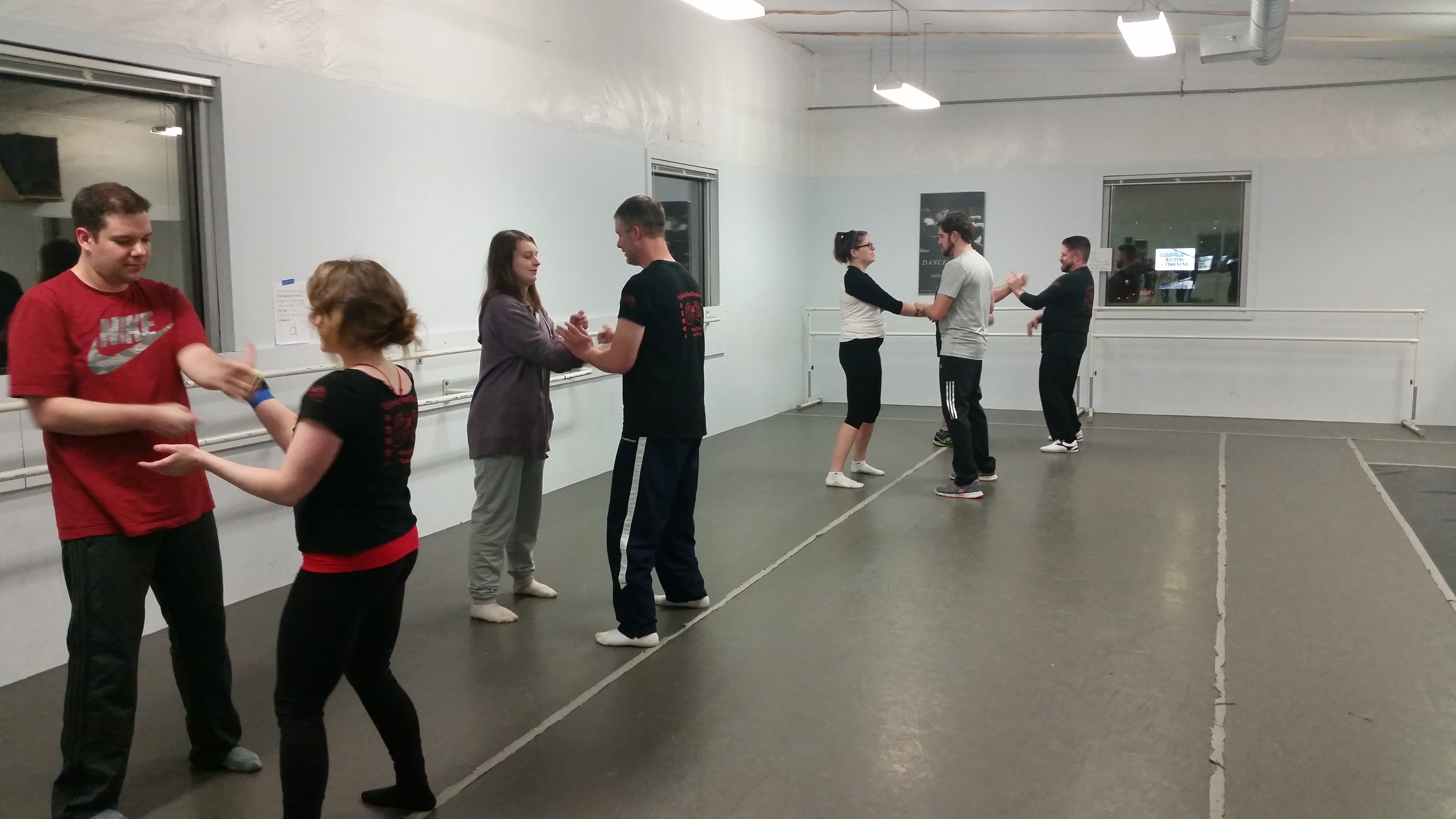 Learning Wing Chun is very easy, yet hard to master. While it may take many years of discipline and focus to master, beginners can quickly and easily understand its principles and apply them in a practical and effective manner. You won't see any fancy or flashy moves. If you do it is not Wing Chun. Learn Wing Chun's theories, scientific principles and ancient wisdom of internal power. Wing Chun is known for:
Efficiency
Center-line theory
Low kicks
Quick & economical movements
Tight center-line defense
Simultaneous offensive & defensive expressions.
---
History & Lineage
There are many different oral histories of how Wing Chun came to into existence. Here I share one popular version of the folklore. In the 17th century China was invaded by elements from Manchuria which formed the Qing Dynasty. The Southern Shaolin temple was located in Fujian and was well known for its military prowess against pirates. The Buddhist temple was also known to be a refuge for rebels, so the Qing Dynasty burned it down. Legend says, that the Five Elders of Shaolin survived and went into hiding.
The Five Elders of Shaolin:
Ng Mui or Wu Mei is known for being a master and influencer of many styles:
Wu Mei Pai
Wing Chun
Dragon style
White Crane
Five Pattern Hung Kuen
Five Ancestors Fist
Legend says she was the daughter of a Ming general and started kung fu training at a very early age. She is known to have spent time in the Wudang Mountains, which if she did could have been influenced by Taoist kung fu. She eventually moved to the Southern Shaolin temple and rose to the status of abbess before it was burned down. According to Ip Man (Yip Man), the abbess fled to a village where she took on a student named Yim Wing Chun who was being forced into marriage by a local warlord. Wing Chun easily defeated him and later married Leung Bok-Chao who she taught him what she learned from the abbess. Leung Bok-Chao taught Leung Lan-kwai and named the art after his wife. In the 1850s Leung Lan-kwai spread the art to the Red Boat Opera Group to six men: Leung Yee Tai, Wong Wah-bo, Yik Kam, Hung Gan Biu, Dai Fa Min Kam, and Law Man Kung. Leung Yee-Tai and Wong Wa-bo taught Leung Jan who later taught his son, Leung Bik and Chan Wah-shun (the "Moneychanger Wah").
Ip Man was the 16th and last student of Moneychanger Wah, and taught him for three years until he had a stroke. Chan Wah-shun's second student Ng Chung-sok took Ip Man as his student. In 1909 Leung Bik (Leung Jan's son) challenged young Ip Man to a friendly sparring match, which Leung Bik won. Later Ip Man became Leung Bik's student for a couple years until he passed away.
Ip Man had a lot of notable students, one of them is Wong Shun Leung who was a fighter and had hundreds of street fights in Hong Kong. Wong Shun Leung is credited with training Bruce Lee. Ip Man had a closed-door group of three students (Leung Sheung, Lok Yiu, & Chu Shong-tin). Leung Sheung was Ip Man's first and most senior student. Leung Sheung taught Kenneth Chung.
Sifu Ray McDonald first learned Wing Chun from Sifu Randy Lewis whose lineage comes from the Chan Wah-shun line. Ray McDonald is currently studying the Leung Sheung lineage from the lens of Kenneth Chung and his students
References: History of Wing Chun, Southern Shaolin Monastery, Five Elders, Chan Wah-shun, Leung Bik, Ip Man, Leung Sheung, Wong Shun Leung
Benefits of Wing Chun
Community
Traditional kung fu generally teaches students to be good stewards of the community. Lightning Hand Academy is no exception to this rule as it promotes a fun, challenging, and safe environment for those eager to learn authentic Wing Chun. Please see the school's code of conduct for more details.
Practical Self Defense
Wing Chun is well known for being a practical style of self defense. If you read the History & Lineage up above, you will learn that Wing Chun was created by a woman for a woman. This means that the art does not combat muscular force with muscular force. Instead it uses correct postural alignment together with relation, tendon & fascia strength, intention, leverage, and direct center-line theory to overcome bigger opponents.
Personal Development
There are plenty of layers of personal development that one can spend a lifetime peeling away at. Wing Chun also has many layers. In fact, many lifetime practitioners of Wing Chun have never seen a goal-post in sight. The practice of Wing Chun teaches you to be an efficient and very effective martial artist, but it also teaches you to be a better person. It becomes less of what to do and more of how to be.
Mental Well Being
There are many scientific studies on how mindfulness meditation, qigong, and moving meditations promote mental health and boost cognitive functioning. The forms in Lightning Hand Academy's Wing Chun lineage are practiced slow like tai chi and are considered to be moving meditations.
Reduce Stress & Trauma
Modern-day life can be very stressful. Stress can cause us to close up and be tense, and in some cases, an autonomic nervous system dysregulation can develop. Those with PTSD may already know that there are a lot of studies linking this disorder with autonomic nervous system dysregulation, and there plenty of professionals who prescribe movement & exercise as a mode of therapy. Lightning Hand Academy teaches students to relax. "Soft power" can not be generated when practitioners are tense and stressed. Wing Chun has many energy drills designed to open up our senses. When your senses are opened you can quickly feel physical force and be able to mitigate or redirect them. As a physiological result from being open and calm, it helps reset your sympathetic nervous system (fight or flight response) back into your parasympathetic nervous system (rest and digest response). To help with relaxation moving meditations are routinely practiced within class and are encouraged to be practiced outside of class as well. The school also practices many hip and shoulder stretches designed to open up the joints.
---
Information on Classes
Considering signing up? Learn more about our classes, scheduling, pricing, and location.